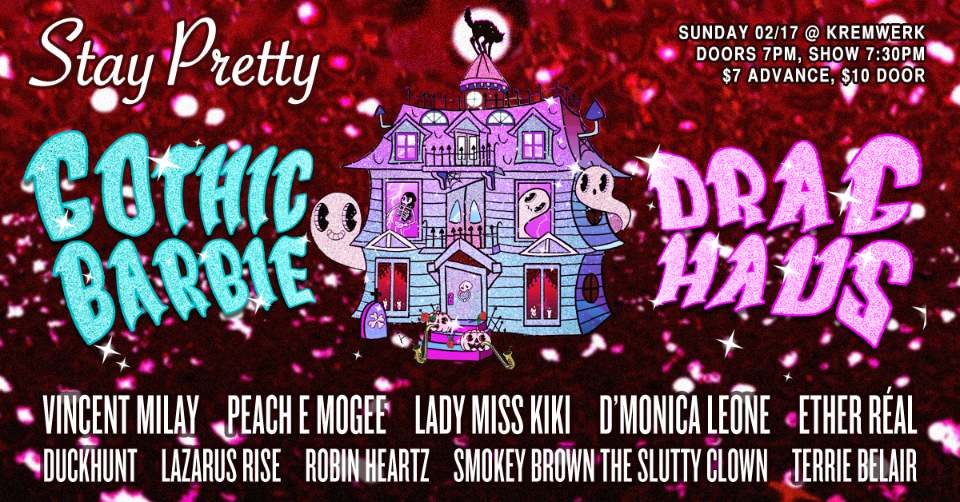 Gothic Barbie Drag Haus: Stay Pretty [KW 5 YR]
Kremwerk proudly presents 5 years of drag shows featuring:
Gothic Barbie Drag Haus: Stay Pretty
🎀 TIX: bit.ly/GothicBarbieDrag2 🎀
Gothic Barbie Drag Haus could very well be a fever dream of Mr. Vincent Price himself. Paying homage to the old-fashioned Horror Movies of yesteryear, with a pinch of pastel. Bats, cats, and witches a-plenty! A sure treat to get a cavity going at any Pagan Party — every night is Halloween here! ☠️💗
🖤 Gothic Barbie Drag Haus Members:
🖤 Vincent Milay
🖤 Peach E. Mogee
🖤 Lady Miss Kiki
🖤 D'Monica Leone
🖤 Ether Réal
💖 Featured Performers:
💖 Duckhunt
💖 Lazarus Rise
💖 Robin Heartz
💖 Smokey Brown
💖 Terrie Belair
Join us and our otherworldly cast of variety performers as we whisk you off to our dark dreamland! 🔮
🎀 #StayPretty 🎀
🎂🎂🎂🎂🎂🎂🎂🎂🎂🎂🎂🎂
Sunday, February 17th
7PM Door + 7:30PM Show
ADV $7 | Door $10
🎂🎂🎂🎂🎂🎂🎂🎂🎂🎂🎂🎂
Kremwerk
1809 Minor Ave.
Seattle, WA
http://kremwerk.com/
21+
🎂🎂🎂🎂🎂🎂🎂🎂🎂🎂🎂🎂
Kremwerk strives to be a safe space. The following actions or display of behavior will not be tolerated: bigotry, racism, sexism, transphobia, homophobia, misogyny, ableism, as well as the disrespect of the rules of consent. Our staff is here to support you.
Kremwerk is currently not an ADA accessible space. Club entry is through a flight of 12 metal stairs, with two small steps leading into the main part of the club. We have 2 restrooms with a total of 3 stalls and 1 urinal, all gender neutral. If you would like access to single-stall restrooms, please don't hesitate to ask our door & security to allow entry upstairs into Timbre Room, which has 2 single-stall gender-neutral restrooms.
For any questions about safety & accessibility, please email info@kremwerk.com